January is that time of the year where you set goals. Check out this GREAT mindset exercise that'll help you
Set amazing new goals for 2022, and even more importantly,
Give you the power to reach them.
FACT: Almost all of us have had New Year's resolutions at one point or another … that we gave up on just a few short weeks later (research shows that most people give up by the 19th of January – quitter's day!). What do you think is the main thing that separates those who quit and those who don't?
Well, it's engaging in regular REFLECTION along the way. And sadly, a lot of people do it the wrong way.
The reflection is a PROCESS that helps you recognise what's working … and what isn't … by asking yourself specific questions.
Questions that can help take your life to the next level.
Reflection is NOT beating yourself up for what didn't work.
Reflection IS taking time to think about the reasons why certain habits or actions "click" for you and why others are more of a struggle. It's just feedback!
Here is an infographic which covers 5 reflection questions to ask over the next few days as we move towards working on our goals.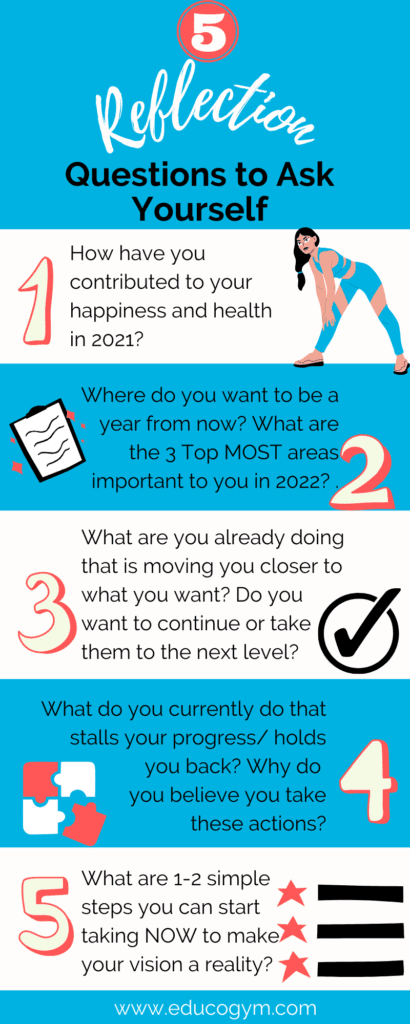 Reflection is a process of stepping back to look at the big picture to see what is really required to set yourself up for success.
Another great question to ask yourself: "What would this look like if it was easy?"
If you get stuck, it helps to get an outside perspective. This is where coaching comes in …
Because a great coach can help you make the process a lot easier and more direct. They can eliminate the learning curve to find the fastest path to real results.
And it's one of the things we do best in all our programmes at Educogym. If you are ready for meaningful, measurable and truly transformational results, we are here to help. You do NOT have to go it alone! Book a free consultation Now: https://educogym.as.me/consultation