Breakfast truly is the most important meal of the day and can make a huge impact on your day, and even your overall health. So here we have a few breakfast recipes for you that will make your taste buds dance.
1. NO BAKE COOKIE OATMEAL
*Makes 1 serving (PB)
Warm, comforting, and yummy!
TIP: You also can prepare this in the microwave.  Microwave the first two ingredients for 1 ½ to 2 minutes, and let sit for about a minute before stirring in the nut butter, protein powder, and maple syrup.
Ingredients
½ cup (40 grams) rolled oats
1 cup (240 ml) oat milk
2 tbsp almond butter or peanut butter
1 scoop chocolate protein powder (or 1 tbsp cacao)
1 tbsp maple syrup (optional)
Directions
Combine the oatmeal and oat milk in a small saucepan over medium heat. Cook for about 5 minutes, until the oatmeal reaches your desired level of tenderness.
Remove from heat and pour into a bowl. Stir in the other ingredients. If the mixture is thicker than you enjoy, add a little more oat milk.
Enjoy!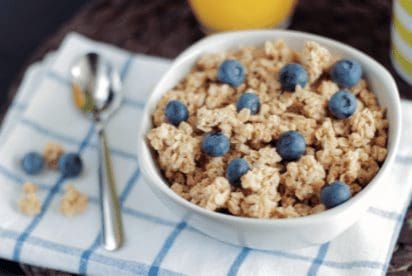 2. Maple Cinnamon Quinoa Bowl
*Makes 1 serving (PB)
Quinoa usually isn't the first grain that pops into mind when it comes to breakfast, but its high protein content (as well as its texture) makes it a good choice. Each cooked cup contains 8 grams of protein, while the same amount of oatmeal contains 6 grams.
Meal prep tip: Cook up a batch of quinoa ahead of time and keep it in your fridge so it's ready to go!
Quinoa tips: Rinse quinoa well before cooking, especially if you are going to be feeding it to picky eaters. It helps eliminate that distinctive quinoa taste.
If you have a rice cooker, use it to prepare your quinoa. It's a foolproof way to get the perfect texture!
Ingredients
1 cup (90 grams) cooked quinoa
½ cup (120 grams) oat milk
½ tsp. cinnamon
1 tbsp pure maple syrup (optional, sweeten to taste)
2 tbsp raisins
Directions
Prepare quinoa according to package directions.
Stir in the rest of the ingredients. Enjoy!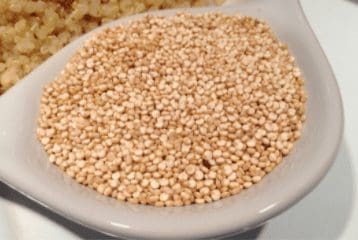 3. Homemade Protein Pancake Mix
*Makes 4 servings (PB, MP)
Healthy pancakes for breakfast? Yes please! Making your own mix at home can save you € € € plus you can feel good about the ingredients.
Protein Pancake Mix Ingredients
2½ cups (200 grams) rolled oats
½ cup (125 grams) plain or vanilla casein protein powder
¼ cup (50 grams) coconut sugar
2 tbsp baking powder
1 tsp sea salt
To Make The Mix
Place the rolled oats in a food processor or high-speed blender. Pulse until finely ground.
Place all of the ingredients in a mixing bowl. Mix well before transferring to a mason jar or other airtight container to store until ready to use!
To Make The Pancakes (1 Serving)
Pour ¾ cup (about 100 grams) of the mix into a mixing bowl and add ¼ cup (60 ml) of liquid (water, milk, etc.). Stir well until it reaches pancake batter consistency.
You might need to add a little more liquid depending on your protein powder. Using a tablespoon at a time, add just enough to create a fairly thick batter.
Stir in your mix-ins (berries, nuts, etc.).
Over medium heat, heat a frying pan that's been coated with oil. When it's hot, add the batter to form your desired size of pancake.
Cover the pan and cook for a couple minutes, keeping a close eye on it. When the edges start to turn brown, flip it over to cook on the other side.
Place pancake(s) on a plate and top with your favourite toppings and enjoy!
TIP: You can use any kind of protein powder you want in this mix but we recommend Casein protein. Brown rice powder can be a good option for Vegans or those intolerant to casein. Brown rice powder will have a less earthy"health-food" taste.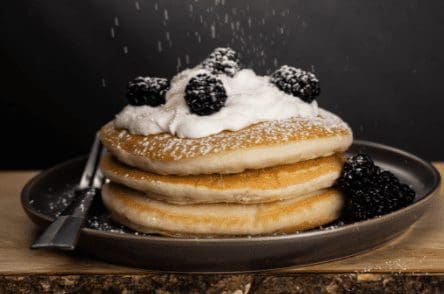 Yummyyyyyyy……When are you going to try these? Do let us know if you like them or comment if you wish to share your experience.
For more ideas you can download our Protein- packed breakfast Recipe guide. Recipes that can help you start your day feel Healthy, Energised and Ready for whatever comes your way.
The recipe guide is free for a limited period of time. Click here to get your FREE copy now https://www.educogymsecrets.com/protein-packed-breakfast-recipe