Goal Setting is the perfect opportunity to re-evaluate what you want out of life, and the path you want to take to get there. You've got a clean slate ahead of you. It's filled with possibilities and opportunities – all you have to do is decide to TAKE BACK CONTROL.
Here are 6 steps for goal setting.
STEP 1:
Write each category on your Life Balance Wheel. Think about all the different aspects of YOUR daily life: These are a few examples to help you get started:
Health & Wellness
Relationships
Career or Passion
Finances
Spirituality
Learning
Come up with 6-10 different categories that have meaning for YOU.
STEP 2:
Give yourself a score for the amount of satisfaction/happiness you currently have in each area. (A score of 10 = high, 5 = average, 1 = low.)
If you're like a lot of people, this number can feel pretty subjective. For example, if you are facing a hard deadline at work, your satisfaction might be lower than normal! Or if you've just gotten a big raise, that number might be extra high right now!
Try to come up with a number that fits your general, overall feelings about how satisfied you are in each category. Mark each score on the line of your Life Balance Wheel.
STEP 3
Once you've given yourself a score in each area, you will quickly be able to see the areas where you're doing well and which ones need a little more of your attention. Put a star next to those categories.
STEP 4
Now that you've taken inventory, it's time to get practical! ASK YOURSELF: How can you improve the areas with a lower score? What is ONE thing you can do to take action TODAY to improve your numbers?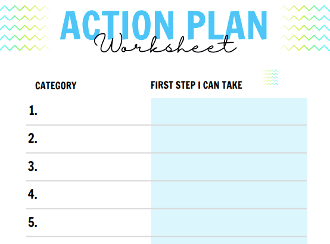 STEP 5:
Put your plan into action to bring up those scores and bring more fulfilment and happiness to your life! This WILL be fun! Depending on which areas you want to improve, it could include:
STEP 6:
Reset and revise!
Remember: your Life Balance Wheel is always turning and changing. It will evolve over time, based on what's happening in your life and on your shifting priorities.
(New baby, starting a business, your health or health of a loved one, changes in your relationships, your goals, etc.!) That's why it is a good idea to revisit your Life Balance Wheel every six months or so, to see how you're doing and update your numbers.
It's the perfect time to take advantage of all that "fresh start" energy and channel it into making your goals a reality. If you need any help with goal setting, download our free "2021 Fresh Start and Goal Setting Workbook". You can Download it here.